<!–– Table used here to put badege image to the right of the headings -->
Ulysses Club WA - Odyssey 2020

Cowaramup - Saturday 24th to Monday 26th October

Hosted by Warnbro Sound Wanderers




Proudly sponsored by Shannons
<!–– main text here -->
WELCOME ULYSSIANS
Warnbro Sound Wanderers invites you to join us in Cowaramup (not just any Udder town!) for a weekend of friendship, food, fun and forays into the local area. We have done our best to support local small businesses and have purchased most of our requirements locally. We hope you enjoy the weekend, ride safe, drink responsibly & most of all "Grow Old Disgracefully!"
VENUE
Taunton farm is a perfect venue for our event, with comfortable cabins and plenty of powered & unpowered sites. Everything will be on site, so no need to wait for buses after dinner. You just need to BYO drinks, which means you can pay bottle shop prices! There is a liquor barons in Cowaramup 5 kms from our site. There are also a variety of cafés and gift shops selling everything from gourmet food to specialty teas. Then of course there is the bakery & pharmacy, probably both on most Ulyssians shopping lists!
Accomodation ideas: click here.
RIDES
Follow our ride leader Martyn on his white FJR1300, as he leads us down some of the Southwest's best roads. Martyn recently drove down these roads to make sure they are safe and ready for our rides.
Sunday 25th October 9:30am Organized Ride leaves. This ride is in two parts.
Part one. Ride to Cape Leeuwin Lighthouse via Caves Road. Morning tea August Bakery (90Km). At this point some riders may want to go back to the camp ground, or if the weather is bad we all go back to the camp ground.
Part two. Ride to Nannup along the Brockman Hwy. Returning via Vasse Hwy (190 Km).
Sunday 25th October 9:30am Organized Ride leaves.
Cape Naturaliste Lighthouse via Caves Road. Then Dunsborough for coffee.
FOOD
We will cook your bacon & egg rolls each morning (unless you prefer to cook your own) but you will be cooking your own dinner, so better bring the missus or your mum! (Martyn said he may cook some for a fee!) Meat: the steak will be locally sourced, grass fed tenderised round steak, and our BBQ patties and sausages are made fresh instore at Cowaramup butchers Salads: Coleslaw & Potato salad made by our Riverfresh chef in Margaret River Bread rolls: fresh each day from Cowaramup French Bakery Deserts: Apple Crumble. Made fresh by Cowaramup French Bakery Tea & Coffee available all weekend in the BBQ shed. Meals will all be in the BBQ shed with a gravel floor, so no need to worry about dripping the egg on the floor, just your shirt!!
Other details:
<!–– main graphic/image here -->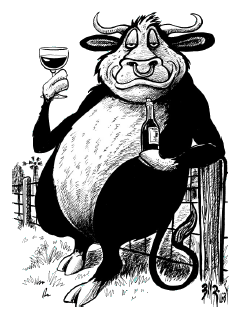 CONTACTS:
Postal Address:
Warnbro Sound Wanderers Branch
PO Box 8156
Warnbro WA 6169

President: Julie Wilcox Secretary: Chris Glover, 0419 919 275
---
<!–– List of previous odysseys -->
Odysseys Past & Future
| | | |
| --- | --- | --- |
| Year | Location | Organising branch |
| 2021 | Muresk, Northam | Joondalup |
| 2020 | Cowaramup | Warnbro Sound Wanderers |
| 2019 | Bridgetown | Mandurah Murray |
| 2018 | Frost Park Raceway Mount Barker | Great Southern |
| 2017 | Collie | Fremantle |
| 2016 | Irwin Recreation Oval in Dongara | Warnbro Sound Wanderers |
| 2015 | Moora Footy Oval and Recreation Centre | Joondalup |
| 2014 | Kookaburra Caravan Park Busselton | Warnbro Sound Wanderers |
| 2013 | Merredin Recreation & Leisure Centre | Perth |
| 2012 | Denmark | Great Southern |
| 2011 | Wagin Show Grounds | Armadale |
| 2010 | Capricorn Resort Yanchep | Bare Bones (Joint) |
| 2009 | Kalgoorlie | Kalgoorlie |
| 2008 | Geraldton Camp School | Geraldton & Joondalup |
| 2007 | Rockingham Holiday Villiage | Warnbro Sound Wanderers |
| 2006 | Dunsborough | Fremantle |
| 2005 | Bunbury Carvan Park | Bunbury |
| 2004 | Mandurah | Perth & Mandurah |
| 2003 | Esperance Bay of Isles | Esperance |
| 2002 | Happy Days Caravan Park, King River Albany | Joondalup |
| 2001 | Happy Days Caravan Park, King River Albany | Warnbro Sound Wanderers |
| 2000 | Over the Hill Rallys till 2000 | Dick & Pam Hendren |
---